Presentations
Juan Gris: Graphic ArtworkFebruary 2005–July 2005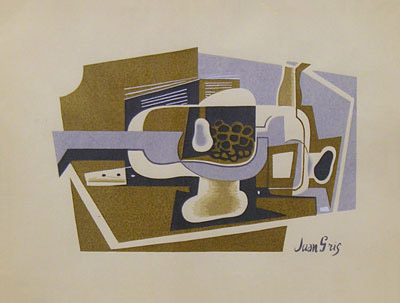 Juan Gris is one, is the one who combines perfection with transubstantiation

— Gertrude Stein
Juan Gris, the pseudonym of José Victoriano Carmelo Carlos González Pérez, was born in Madrid in 1887, to a Valladolid-born stationer and his Málaga-born wife. The family stationery business enabled the family to live comfortably and allowed the artist to attend good schools. His post-secondary education is not well-documented but we do know that he had classes with the Málaga-born painter José Moreno Carbonero.
At that time the Spanish artistic panorama was no place for an impatient young man, and so in 1906 Gris moved to Paris where he was received by Daniel Vázquez Díaz who helped him find accommodation and introduced him to Picasso.
Juan Gris took up residence at 13 Rue de Ravignan, where Picasso also had a studio and through Picasso he met Kahnweiler, the Cubist movement's main dealer.
To make ends meet, the young 19-year-old artist produced drawings for illustrated magazines such as Le Témoin and L'Assiette au Beurre. His first pictures were not exhibited until 1912.
When Juan Gris arrived in Paris, the seed of Cubism was beginning to germinate. The Fauve movement, with its undisciplined, sensual style of painting that did not follow any given rules and that could not appeal to any individual authority for whom order was the main objective was now reaching its end.
In contrast, the Cubists' objective was to rediscover the unity in a work of art, something that had been lost with the Fauves, and to give maximum information on the subject depicted. This was a doctrine well-suited to Gris' values.
Juan Gris was not destined to be just one more Cubist painter; he was to become the Cubist painter par excellence.
In his work, he did not tolerate confusion, darkness, annoying or disquieting elements. He took his opinions to their utmost consequences with an inexorable, almost mystical, self-discipline. He regarded conflict between the subject depicted and the depiction as inevitable, a conflict in which the picture must prevail.
"I cannot stand before a bunch of flowers and copy it," Juan Gris once said to Picasso.
His creativity was based on a certain set of compositional laws that he discovered for himself. His imagination created a colourful, powerfully-structured whole, something that his works transmit undiminished to the viewer. His subjects are quite simple: glasses, bottles, musical instruments. Gris called this manner of painting poetical, suggesting surprising relationships to the viewer between the objects within the picture's fictitious space – relationships that s/he had never been aware of.
← previous (18/19)
Imi Knoebel: Graphic Artwork