Women's Views Biennial
Women's Views Biennial 2016 arises with hope, strength, and renewed spirits to show the creative potential of women and the marks it leaves on our state's art system and internationally.
From March to December 2016, the Women's Views Biennial will bring together initiatives that make women and gender issues a source for reflection, debate and creation.
Ana Lessing Menjibar:
(Re)TratandoMarch 2016–October 2016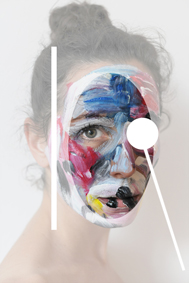 Ana Lessing Menjibar confronts a traditional motif in the history of art, the female portrait. The aim of this project is to put an end to the historical linearity of male speech about female body, because the view of men has traditionally configured women's physical appearance in visual art.
In this case we find the vision of a female artist on the face and body of the woman. The techniques used by the artist form a kind of palimpsest. Lessing Menjibar applies oil on the body of the model. Then she takes a photo and paints directly on it. Finally this photo is given a graphic or digital treatment.
In this way, Ana's work is a departure from the common distance between the model and the artist. Using layers that she superimposes on top of the original image, she creates a great variety of sensations and interpretations of these images.